OK folks – it's time: time for Ben's Fabulous Internet Yard Sale to begin! I'm not doing this on eBay because I don't feel like dealing with random strangers. Feel free to pass this on to friends, because friends-of-friends should be fine, but I don't like haggling so I'm avoiding the internet auction sites.
THE RULES:
1. Bids accepted by email to ben@bendeschamps.com or in person only. Please do not use the comments to bid on items, although the comments are an excellent place to ask questions about items (like "What edition is that book?" or "Does that synth have all its parts?".
2. First come, first served. If two people email me an offer on the same item, I will go with the first one to arrive in my inbox. Mostly. See #3:
3. I'm not going to be an idiot about #2: if someone offers me substantially more for an item then I'm probably going to go with them. Gotta pay the bills, right? But I'm going to do my best not to be a jerk about this.
4. All bids are private: I'm not going to tell people how much & to whom. Sorry.
5. Buyer is responsible for pickup or shipping charges. I'll do my best to make sure that the shipping is handled reasonably (we do a lot of shipping at work, so I'm pretty confident that I can find a way to ship things as cheaply as possible) but remember that local pickup will generally win out as cheaper for everybody. I'm currently hoping to get down to Buffalo soon so I can ship some things via USPS and save my American friends a pile of dosh.
6. Cash or PayPal only.
7. Don't be a dick 🙂
8: If you see something posted that you think already belongs to you (ie I'm trying to sell something you lent me) please let me know via email! We'll sort it out. My apologies in advance as this could happen, although I'll try to prevent it.
9. Many pictures are borrowed from the internet, to save me trying to dig through closets & storage lockers etc. Thanks & apologies to those whose images I borrowed. I don't think we're likely to drive so much traffic that their servers will notice.
So, with that out of the way, on to the listings!
All new: GIRLY STUFF!
The Girl has asked me to list a few things here. She was even ok with me adding my own colour commentary. So here goes:
Some Kind Of Shoes – I'm given to understand that women like shoes. These appear to be shoes, ergo, women should like them. But they're apparently size 11, which means I guess they're pretty big, and I think discrimination is bad, so I imagine quite a number of my male readers will like them too. Since I don't want to be cisnormative, though, I suppose many trans readers would find them attractive too. Hell, I don't want to anthroponormatize (totally a word!), so if you're an off-green amoeba from Tau Ceti, have a look, they might be just the thing for you. That is, if your pseudopods will fit a size 11. Suggested bid: $30
Skull Bag With Ties and Safety Pins – also some spider webs, and some possibly extraneous shoelace. I suspect it's some kind of purse, which means a) I'm sure that women (or men, or non-cis-normative persons, or non-anthroponormative persons) will love it, and b) it is probably far more capacious than it has any right to be, and may in fact be a transdimensional portal of some sort. May or may not contain kleenex, car keys, headache tablets, the Fifth Element, flask, or my patience, which always seems to go missing when there's any riffling through a purse to be done. 
Pointy Poky PVC Backpack – tired of being jostled on public transit? Unwilling to support the oppressive system of animal cruelty by using leather, but OK with using dwindling natural resources to create PVC? Need a place to store your giant sea urchin while you go out for a walk? This is the bag for you, my friend! It has a slightly unpicked seam at the point where the shoulder straps join the bag at the top, but that just lets your sea urchin breathe. Oh wait, they don't breathe do they? Hmmm.
Tripp Pants – Size 11. I assume the name comes from what would happen if I ever tried to wear something this baggy and complicated. There are enough zippers that you'll give the TSA a stroke! Things zip up! Things zip down! Note: buyer must provide their own oontsa oontsa music and glowsticks. Suggested bid: $20
Punk Rave Garter Shorts Thingies – Honestly I have absolutely no idea how one goes about wearing these or what their purpose is. I'm going to assume it's something anthropological (but not anthroponormative! No, that would never do). Perhaps having to do with some form of mating or fertility ritual, or perhaps a rite of passage? It's been a while since I've read Claude Levi-Strauss so I'm really not au courant. Suggested bid: $30
Tripp Dress – This appears to be a dress. I'm not sure why it has bits of almost transparent material at the bottom. I'm assuming that the laces on the side are for when you go to the all-you-can-eat Chinese buffet and you have to let it out a bit afterwards. Can I get these in all of my clothes? It claims to be Size L but I assume that after a heavy meal that could become XL for a bit. Suggested bid: $35
Clik Klak Skull Mini-Skirt – miniskirts are one of the leading causes of car accidents! Think of how many people have been harmed by drivers distracted by comely lasses in miniskirts! The only solution: BAN CARS. Also, why is it spelled "Clik Klak"? Is "Click Clack" so bad? Anyway, it claims to be size L, but that makes no sense, since we have already established that it's "mini" in nature, and the Girl goes on to say that it's "quite stretchy" which either a) means size is largely irrelevant or b) means there will be more car accidents. Suggested bid: $10
Leather Collar – This is quite large. It looks like it's for a Great Dane, or a Rottweiler, or a… what's that? It's for a person? Um. Perhaps that bit at the front is so you can attach your car keys, so you don't lose them?
Doctor Who License Plate Cover – if your other car is a TARDIS, why are you taking your Taurus? Surely you could leave later with the TARDIS and just set it to get you to work on time? This is in Girly Stuff because The Girl was hanging out with Matt Smith last weekend. And also because I don't have an Automotive section. Suggested bid: $10
Lip Service "Quoth The Raven" skirt – Another of those lace-up numbers, although I can't really see wearing this to the Chinese buffet. I'd never be able to move fast enough to get the last helping of General Tso's Chicken. Also, if there were a young lady at the Chinese buffet wearing this, I don't think I'd be able to concentrate properly on my lo mein. Suggested bid: $100
Demonia Boots – size 11. I AM ZARGOTH DESTROYER OF WORLDS! LICK MY BOOTS, SLAVE! Oh geez, sorry, did I put your eye out there? I really should be more careful about those spikes, but I'm so high up on these platforms I couldn't actually see the ground very accurately. Suggested bid: $100
MUSICAL EQUIPMENT

Ashly Parametric EQ – a very sweet piece of vintage kit. Suggested bid: $400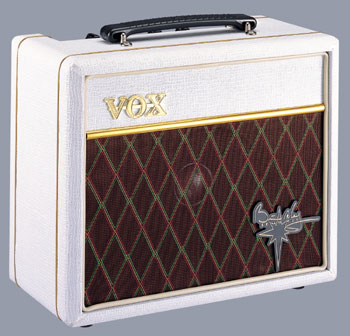 Vox Brian May guitar amplifier (6″ speaker) – Sound like Brian May stuffed into a teensy box! Suggested bid: $100

Roland GR700 guitar synth – in need of some love. And who wouldn't love this beast? Suggested bid: $300

Akai S612 sampler – with optional disk drive & plenty of disks. Who needs 24-bit sound when you can rock it with 12? That's, again, twice as good. Somehow. (Actually this one is pretty sought after. On-the-fly reversing – pretty sweet!) Ottawa Valley pickup/delivery only. Suggested bid: $150
EKO Bass Pedals – these things are absolutely boss. The pedals themselves are wood (with an attractive flamed maple pattern). The guts are pure analog mono synth. None of that MIDI crap! Output options include "output". But that output is AMAZING! Suggested bid: $250.
Electrovoice BK-842 Stereo Analog Mixer – Fantastic old-school mixer. EV makes great sounding kit. Rack-mountable. Ideal for use in an installed situation (read: heavy as a very heavy thing). Suggested bid: $100.
2x 100W, 2U K&K (I think) power amps – boat drifting aimlessly in the stream? Tie these to a rope & drop 'em in! Supplied in their own special orange 4u (maybe 6u?) rack case. NB: no shipping on these b*stards. Pickup/delivery only, Ottawa Valley. Suggested bid: six-pack

Fostex 2016 16-channel line mixer – You got 16 synths and only two inputs? This will… um. Wait. I think I misspoke there. Suggested bid: $50 SOLD!


PAiA Theremax Theremin – built from a kit. Needs one more part soldered in. I even have the part! But if I haven't put the part in in the last 10 years, I think I'm not going to. But you could! Weeeeeeooooooooouuuuuwwwww! Screeeeaaarrrrrrllll! Wubwubwub! Suggested bid: $200 SOLD!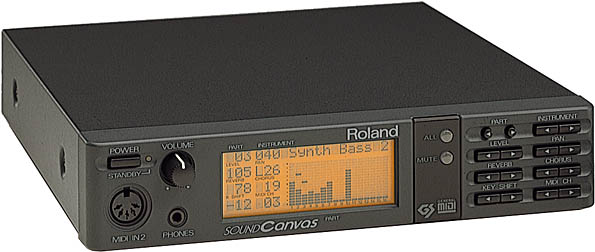 Roland SoundCanvasGeneral MIDI, sir, reporting for duty. 128 megatons of sound, 16 channels of pure deliverable heck. At your command. Suggested bid: six-pack SOLD!

Shruti Box – do you need hrrrrrnnnnng? Wheeze? GRRRNRNRNRRNNNNN? This box is the thing for you! Requires no musical talent whatsoever. Made of wood! Can play several chords! None of which will actually be related to concert pitch, but hey, you can't have everything, can you? It's featured on several Heather Dale albums, with judicious use of pitch shifting. Suggested bid: $40. SOLD!
Boss RC-20XL LoopStation – Oh you know you want this gem. It loops! It overdubs! It dooflangles! And if you're careful not to wipe the presets, you'll hear the loops and synth pads that have been used in the Heather Dale Band set for the better part of a decade! Still rock solid. Includes instruction manual, which is apparently too clever for me to understand, because I've never been able to make it work right, but Heather and Betsy certainly have. Suggested bid: $100.


Evolution e-keys midi USB keyboard – Always wanted to play keyboards but your fingers were just too small? This one's for you! Generates no sounds on its own. Well, I suppose you could hit things with it, and it'd make kind of a thunk, or a crack, or maybe a click. But plug it in via the supplied USB cable and – magic! Suggested bid: $10.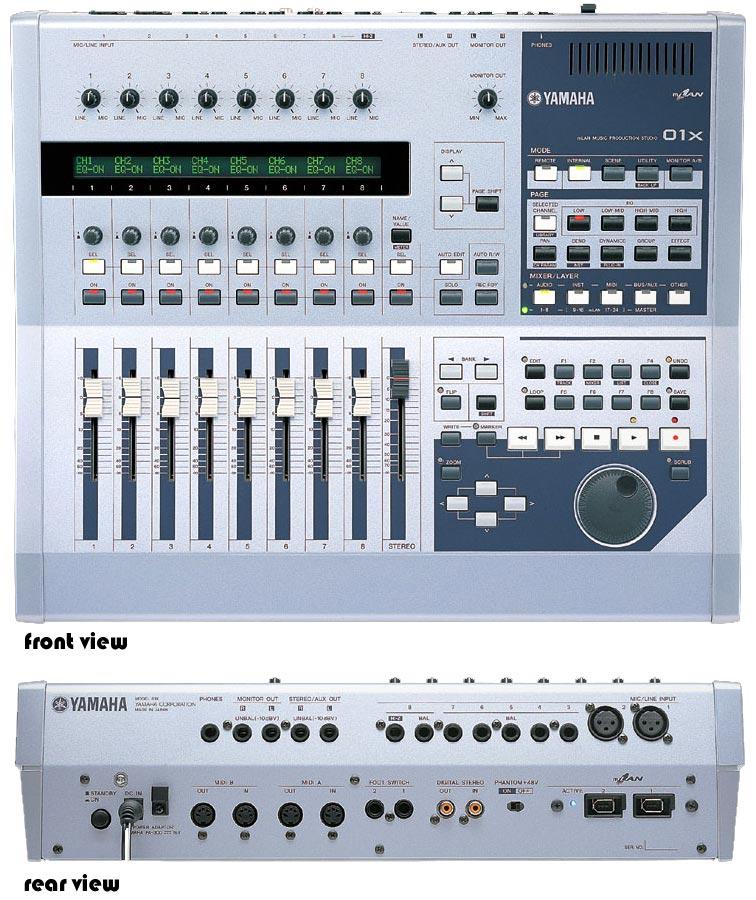 Yamaha O1X Mixer/Interface – You might say it's a bit dated, but in all honesty, this is probably the most flexible piece of recording hardware ever devised. 8 lovely Yamaha preamps, automated faders (oooooooooo! coooooool!), fully assignable routing, MIDI in/out, and Firewire connectivity. Comes with manuals, power supply, and plugin CD (the plugins are worth their weight in gold!). Used to record and mix several Heather Dale albums. Suggested bid: $100.
TC Helicon VoiceLive – Amazing live voice processing unit. Has a short – worked great up until recently but now struggles to boot. A clever boffin would be able to find the fault in 30 seconds, as long as they don't work at Long & McQuade. So fix it up into the audio juggernaut of your dreams! Suggested bid: $50.
Tektronix XLR100 audio bypass unit – also known as "a custom patch bay waiting to be made"! Suggested bid: six-pack SOLD!

Yamaha DX-7 Keyboard – the coolest keyboard of all time – you know you wanna sound like Jan Hammer! Miami Vice FTW! Note: smoke not included. Suggested bid: $250

Roland D10 Keyboard – Not as exciting as the DX7 but equally full of warrrrrrggg and shwrrpt. May contain bpleeeerp! May lack the watch battery that makes it wake up in the morning. EDIT: Also has some issues with the patch-selection buttons. As is! Emptor has been caveatted. Suggested bid: $75
VINYL
K-Tel Presents "Captain of the Starship: William Shatner LIVE!" – 2 records, 1978. Serious enquiries only, this sucka's rare as hens' teeth*.
Star Wars: Rebel Mission to Ord Mantell – another rare one.
Uriah Heep – Demons  And Wizards – fantastic hard rock from back when it was cool to sing songs about gypsies and wizards. I have been known to sing "The Wizard" live from time to time.
Alcatrazz – No Parole from Rock 'n' Roll – LIVE SENTENCE – Yngwie Malmsteen as a young and unrestrained man, before he became all serious and tasteful. A fabulous live album.
Walt Disney's The Fox And The Hound. Don't even ask.
Dream Theater – When Dream And Day Unite – their first album, on vinyl! So their first singer sounds even more castrated!
Music from the Motion Picture: GREASE. Seriously, don't ask.
Whitesnake (epon.). – didn't I tell you not to ask?
ARTCH – Another Return To Church Hill. Not one of the great successes of the late 80s, but if you like proggy metal, you'll enjoy them.
Golden Avatar – A Change Of Heart. Just when you thought 70s fusion couldn't get wankier…
Steely Dan – Pretzel Logic, Can't Buy A Thrill – then we pull out the Dan!
Pink Floyd – Dark Side Of The Moon. What? You're telling me you didn't have a copy of this?
Ozzy Osbourne – Randy Rhoads Tribute – I still get all misty-eyed.
Iron Maiden – Stranger In A Strange Land 12″ – another for the connoisseur.
The Police – Every Breath You Take – seriously, the stalkeriest song ever.
Eric Clapton's Rainbow Concert – Children, this is what drugs do to you. They make you get all your friends together to raise money to put a millionaire into rehab, and that guy shows up and plays percussion all over it, and he's even higher than the rest of the band. When Pete Townsend's the sober voice of reason in your circle of friends, it's time to re-evaluate your life choices.
Deep Purple – Perfect Strangers – THAT RIFF. Oh my.
Savatage – Hall of the Mountain King – whaaaAAAAAAAAAAAAAAAAAAAAAAAA-aaaaaaaAAAAAAAAAAAaaaaaaaa!
David Bowie – Let's Dance – for some reason Tilda Swinton seems to be wearing boxing gloves on the cover, without her shirt on… what's that? That's David Bowie? Oh my.
Toranaga – Bastard Ballads – fine indie metal, back when that meant hand-drawn album covers and production values known only to basement tapers. For the serious connoisseur.
Black Sabbath – The Headless Cross – remarkably good, if you concentrate on the sound of Yamaha SPX900s going into Laney amps, and ignore the dubious choice of singer.
RANDOM STUFF

Two stout white IKEA POANG chairs – or, as Amanda likes to call them, "Patoing" chairs. You've not lived if you haven't tried to get out of one of these after a few adult beverages.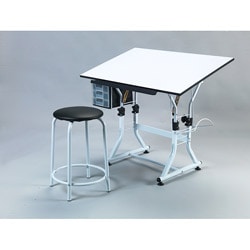 Tilting Artist's Desk, white, excellent condition. Just like the one in the table, only with TWO sets of plastic drawers! TWICE as good!

Amazing Hairy Gorilla Chair – (in black, not white) – super comfortable folding chair. Just like sitting in a silverback's lap, without that nagging worry that if he spots a toothsome strump, your days are numbered. Oh and public service announcement: do NOT perform a Google Image Search for "hairy folding chair" and then try again with "furry folding chair" unless you want new eyeballs & a lifetime of regret.

Bog Standard IKEA office chair (grey back, not red) Look, ma, no arms! Also has a hidden switch that allows you to be launched forward into your workspace/dinner when you least expect it. Honestly, I've never had so much fun at dinner as when I've given guests the "special" chair and then served them the soup course. Am I a bad person?
Black Feather Boa – you know you want to be fabulous. Best not to ask how I own this.
And now the bit you've been waiting for:
BOOKS!
Paperbacks:
Six Yüan Plays. Period drama in China. Dig it, hep cats.
Beecher, Don (ed). – Critical Approaches to English Prose Fiction, 1520-1640 – That's my thesis supervisor, but not my area.
Everyman and Medieval Miracle Plays.
Chaucer – The Book of the Duchess.

Hemingway – The Short Happy Life of Francis Macomber.
Hackett, Gen. Sir John – The Third World War: The Untold Story.  Well, it would be, wouldn't it?
The Memoirs of Field-Marshal Montgomery.
Wyndham, John – The Trouble With Lichen. Underappreciated. Magnificent writer.
Aldiss, Brian – The Malacia Tapestry.
Dick, Philip K. – The Three Stigmata of Palmer Eldritch; Blade Runner; The Divine Invasion; The Man In The High Castle. Having one of those days where the sky is blue and the grass is green? This will fix that for you.
Brunner, John – The Dramaturges of Yan; The Jagged Orbit.
Haldeman, Joe – Dealing in Futures.
Pournelle, Jerry – Exiles to Glory.
Herbert, Frank – Dune; Dune Messiah; Children of Dune; God Emperor of Dune.
Hardy, Lyndon – Master of the Five Magics. Not enough fantasy novels get turned into songs by Megadeth.
L'Engle, Madeleine – A Wrinkle In Time. Long before the Baby Doctor blathered about wibbly-wobbly timey-wimey stuff, Ms L'Engle was in there hardcore, making kids actually think.
Le Guin, Ursula – A Wizard of Earthsea, The Farthest Shore. The reason I don't like the D&D magic system much. Or one of them, anyway.
Harman, Andrew – The Sorcerer's Appendix.
Weis, Margaret – The Lost King.
Infinity Two; Faster than Light (sf short stories).
C. S. Lewis – The Magician's Nephew; The Silver Chair;  The Last Battle; The Lion, the Witch and the Wardrobe; That Hideous Strength; Out of the Silent Planet; The Screwtape Letters.
Van Vogt, A.E. – The Pawns of Null-A.
Foster, Alan Dean – Icerigger. He's better than his movie adaptations would have you believe.
Asprin, Robert – Myth Conceptions; Hit or Myth; Myth-ing Persons; M.Y.T.H. Inc. Link;  Myth Directions; Sweet Myth-tery of Life.
Niven & Pournelle – The Gripping Hand; Inferno.
Pohl, Frederik – Mining The Oort; In the Problem Pit; The Age of the Pussyfoot; Man Plus.
Bear, Greg – Anvil of Stars; The Forge of God; Queen of Angels.
Brin, David – The Postman. This novel contains 0% Kevin Costner.
Gerrold, David – When Harlie Was One. I love books where the computers are smarter than the people.
Heinlein, Bob – The Green Hills Of Earth.
Vonnegut, Kurt – Galápagos.
Delaney, Samuel – Babel-17.
Anderson, Poul – Beyond the Beyond.
Adams, Douglas – The Restaurant at the End of the Universe; Life, The Universe and Everything; So Long, and Thanks for All The Fish; Mostly Harmless.
Peake, Mervyn – Gormenghast.
Lloyd Alexander – The Book of Three.
Moorcock, Michael – The Rituals of Infinity. Say, those wouldn't be Space rituals, would they?
Laumer, Keith – Retief in the Ruins.
Harrison, Harry – West of Eden. I believe I bought this the day my youngest brother was born, at the hospital, boooooored.
Drake, David – Hammer's Slammers.
Chalker, Jack – Demons of the Dancing Gods; Songs of the Dancing Gods.
Stasheff, Christopher – King Kobold Revived; The Warlock is Missing; The Warlock Wandering; The Warlock Enraged. SCA-based fantasy at its finest!
Attanasio, A.A. – Last Legends of Earth.
Goodkind, Terry – Wizard's First Rule; Stone of Tears; Blood of the Fold.

Eddings, David – Queen of Sorcery; Enchanter's End Game; Castle of Wizardry; Magician's Gambit.
Niven, Larry – Divergent Series; The Ringworld Engineers (x2); The Ringworld Throne; Protector; A Hole In Space; A World Out Of Time; The Mote In God's Eye;  A Gift from Earth; All the Myriad Ways; The Flight of the Horse; The Magic Goes Away; Tales of Known Space; World of Ptavvs. I actually enjoy Niven's short stories more than his novels, because they are like thin, tasty slices of brain. Mmmm, brain.
Ellison, Harlan – Ellison Wonderland; Partners in Wonder; The Time Of The Eye; Spider Kiss; Angry Candy. I prefer Ellison's short stories to his novels, too, but that's because a) he's the master of short stories and b) his novels kind of honk. Of course, now Harlan's going to come after me and shout and scream. *shrug* A rite of passage, no doubt.
de Lint, Charles – Mulengro: A Romany Tale.
Benford, Gregory – Timescape; Great Sky River.
Cherryh, C.J. – Legions of Hell.
Card, Orson Scott – Ender's Game – buy it second-hand, that way you can read a great yarn without supporting a total wanker.
Rollo, Gord – The Jigsaw Man; Crimson. Neat new horror.
Connon, Bob –Sociable! The Elbow Bender's Guide to Maritime Pubs. Bob's a great guy, and his book is tons of fun.
Ross-Larson, Bruce – Edit Yourself. About writing, not self-otomy.
Hughes, J. Donald – Pan's Travail: Environmental Problems of the Ancient Greeks And Romans.
Building With Logs & Log Cabin Construction, Algrove Publishing Classic Reprints.
Seoul National University Language Research Institute – Korean 1.
Sear, Frank – Roman Architecture.
O'Brian, Patrick – Post Captain – The greatest historical novelist in the English language. If you haven't read these books, get crackin'.
The Portable Karl Marx. Not to be confused with the potable Karl Marx, which is a whole other thing.
McCrumb, Cran, MacNeil – The Story of English – Brilliant fun.
Crisp, Tony. Dream Dictionary. Trying to run on all fours but the giant spider badgers are eating your breakfast cereal and you can't get away from the flying milkshakes? This one's for you. Sort you right out, it will.
Chabon, Michael – The Amazing Adventures of Kavalier & Clay. So the guy can't pronounce his last name properly. He's still a fantastic writer.
Mao Tse-Tung – An Anthology of his Writings. Includes selections from his poetry. That's right, poems by one of the greatest mass-murderers of all time! Hot diggity!
Byatt, A.S. – Possession.
PayPal Hacks, O'Reilly Books – for learning to customize PayPal. This book will NOT make you a l33t h4xx0r.
Mastering Algorithms With Perl,  O'Reilly Books – this one, on the other hand, probably will.
Understanding the Linux Kernel, O'Reilly Books. This probably won't turn you into Linus Torvalds, but it might help you get to sleep at night!
Conway, Damian – Object-Oriented Perl. Because you're a masochist at heart.
Zimmerman, DJ – 1,000,000 Years of Weapons – or perhaps a sadist? Although a million years does seem a bit of a stretch.
Jousse's Catechism, Burrowes' Guide to Practice, Schumann's Rules for Young Musicians – all this in one book! Imagine that! And it's about 1/4″ thick, too. A steal!
The Montreal Gazette Style Manual.
Boardman, Griffin, Murray – The Roman World.
Myth & Meaning.
Man & Myth.
Carson, Rachel – Silent Spring.
Controlling Your Drinking. Presented without comment.
Betty And Veronica no 18.  A true literary classic.
The Zork Anthology – The 5 Original Text Adventures. I probably have the original floppy disks around, too, if you're that weird. And have a 3.5″ drive…
Hesse, Hermann – Steppenwolf. Groovy, baby!
Gouzenko, Igor – The Fall Of A Titan.
Solzhenitsyn, Aleksandr I. – The Gulag Archipelago – winner of the 1973 Happy Funtime Frolicsome Fripperies Award!
The Concerto: A Norton Music Anthology.
Wood, Michael – Domesday: A Search for the Roots of England. Super cool. Great pictures, great premise. You know you waaaant it.
Llywelyn, Morgan – 1916.
Milton – Paradise Lost & Paradise Regained.
Woodman, Richard – Blaze of Glory: The Third Nathaniel Drinkwater Omnibus.
Bolt, Robert – A Man For All Seasons.
Vaughan, Henry – The Complete Poetry.
Horwood, William – Duncton Wood.
Deanesly, Margaret – A History of the Medieval Church, 590-1500.
Stockton, David – The Classical Athenian Democracy.
Wheeler, Mortimer – Roman Art and Architecture.
Hood, Sinclair – The Arts in Prehistoric Greece.
Brown, Peter – The World of Late Antiquity.
Hussey, J.M. – The Byzantine World.
Lewis & Reinhold – Roman Civilization: Selected Readings, 2 Vols.
Wallace-Hadrill, A. – Augustan Rome. This one's hardcore. Just look at that name!
Beckwith, John – Early Medieval Art.
Stambaugh, John – The Ancient Roman City.
Vasiliev, A.A. – History of the Byzantine Empire, 2 vols.
Lasko, Peter – The Kingdom of the Franks.
Furneaux Jordan, R. – A Concise History of Western Architecture. 432 illustrations! It says so on the cover! Nobody named Furneaux Jordan would lie about that.
Scullard, H.H. – From the Gracchi to Nero: A History of Rome 133BC to AD68. I can't believe I left the "h" out of Gracchi and none of you called me on it. Tsk tsk.
Bury & Meiggs – A History of Greece.
Martindale, A. – Gothic Art.
Zanker, Paul – The Power of Images in the Age of Augustus. Another corker!
Lloyd, Seton – The Art of the Ancient Near East.
Grant, Michael. History of Rome. Must be authoritative, they chiselled the title into the front cover! Or something.
Harpercollins College Outline – Western Civilization to 1500. Cover a bit torn.
Coles Notes – Biology.
Belsey, Catherine – Critical Practice.
Moores & Mohr – Canoecraft: A Harrowsmith Illustrated Guide to Fine Woodstrip Construction.
Conover, Garrett – Beyond The Paddle: A Canoeist's Guide to Expedition Skills.
Monk & Knap – A Complete Guide to Canoeing.
Unger-Hamilton, Clive. Keyboard Instruments. Now that's a name. You just know Clive wears a cravat.
Jonathan Dickinson's Journal: Being the Narrative of a Journey from Port Royal in Jamaica to Philadelphia, August 23 1696 to April 1 1697. Very cool!
Thomas, Charles – Britain and Ireland in Early Christian Times AD 400-800
Shakespeare, Willy – The Merchant of Venice – complete with post-it notes from the poor beleaguered Grade 11s.
Quarrington, Paul – The Spirit Cabinet.
Swift, Jonathan – Gulliver's Travels and Other Writings, Riverside Ed.
Goldstein, Jeri –  How To Be Your Own Booking Agent,  – quite a useful resource, actually!
Boswell, James – The Life of Samuel Johnson.
Goodfield & Toulmin – The Architecture of Matter, Pelican.
Boethius – Consolatio Philosophiae, Bryn Mawr Latin Commentaries, 3 vols staple-bound. Snap this one up, it cost me a small fortune in grad school. And I hated it.
Nicolson, Iain – Astronomy.
Walton, Izaak – The Compleat Angler.
Sawyer, Robert J. – Frameshift.
Kurzweil, Ray – The Age of Spiritual Machines.
McNeil, Freiberger – Fuzzy Logic.
Langland – The Vision of Piers Plowman.
Smith, Russell – Young Men (Stories).
Andrewes, A. – Greek Society.
Dickens, Chuck – David Copperfield.
Elsbree, Bracher, Altizer – Heath's Brief Handbook of Usage.
Stevens, Wallace – The Palm at the End of the Mind.
Williams, William Carlos – Selected Poems.
Ouellette, Francine – Le Sorcier; Sire Gaby du Lac.
The Wordsworth Book of the Kings & Queens of Britain. Mostly jerks, yes, but undeniably interesting jerks!
McNeill, F. Marian – The Scots Cellar – even more interesting than it sounds! I have to stop looking at these things or I'll never be able to sell them.
The Forest Trees of Ontario.
Hughes, Monica – The Keeper of the Isis Light; The Isis Pedlar; The Guardian of Isis.
Castleden, Rodney – Minoans: Life in Bronze Age Crete.
Guthrie, W.K. – The Greeks and their Gods.
Frazer, Sir J.G.- The Golden Bough.
An Anthology of Beowulf Criticism. Including, if I remember rightly, "The Monsters and the Critics", a classic essay by JRRT himself.
Gassner, J. – Medieval and Tudor Drama. What's that? English drama did not spring fully formed from Shakespeare's prodigious forehead? Who knew? Well, you will, when you've read this tome.
Netherlandic Secular Plays of the Middle Ages. Fairly scurrilous, some of these. Codpieces and suggestively slung fishes.
Sachs, Hans – Nine Carnival Plays – Those dirty, dirty Low Germans!
Gildenhuus, Faith (ed). – A Gathering of Griseldas: Three Sixteenth-Century Texts. Serious about period drama? This is the business!
Garner, Alan – The Moon of Gomrath.
Rose, H. J. – Religion in Greece And Rome.
Jordan, Robert – The Great Hunt (autographed trade), The Great Hunt (pocketbook), The Dragon Reborn (pocketbook).
Zelazny, Roger – Nine Princes in Amber; The Guns of Avalon; Sign of the Unicorn; The Hand of Oberon; The Courts of Chaos; Trumps of Doom; Blood of Amber; Sign of Chaos; Knight of Shadows. – Avon. I'd prefer to sell these as a set if possible. Jack of Shadows; My Name is Legion; Lord of Light.
PENGUINS:
Krishna's Dialogue on the Soul, Penguin 60s Classics – evidently Krishna didn't have much to say, as this is quite a small book.
Conrad, Joseph – Heart of Darkness.
Franklin, Benjamin – The Means and Manner of Obtaining Virtue – Penguin 60s Classics – another suspiciously slender volume. He's hiding something, isn't he?
Brontë, Charlotte – Jane Eyre. Still full of annoying post-it notes from when I had to teach it to a bunch of hapless Grade 11 boys. Poor unfortunate souls!
Orwell, George – Nineteen Eighty-Four. No post-it notes in this one, since I suspect I just got up and pontificated about this one.
Johnson, Samuel –  The Complete English Poems.
Ballard, J. G. – The Terminal Beach.
The Mabinogion.
Hrafnkel's Saga and Other Stories.
Njal's Saga.
Adams, Richard – Shardik.
Austen, Jane – Pride and Prejudice. 
Latin Literature: An Anthology. (2 copies)
Plautus – The Pot of Gold and Other Plays.
Caesar – The Civil War.
Juvenal – The Sixteen Satires.
Cicero – Selected Works.
Froissart – Chronicles.
Tacitus – The Annals of Imperial Rome.
Lucan – Pharsalia.
Menander – Plays and Fragments.
Thucydides – The Peloponnesian War.
Homer – The Iliad: A New Prose Translation.
Ovid (Publius Ovidius Naso to you, bub) – Metamorphoses; The Erotic Poems. Ooo er!
Aristophanes – Lysistrata/The Acharnians/The Clouds. (2 copies)
Virgil – The Aeneid.
Plato – The Last Days of Socrates.
Euripides – The Bacchae and Other Plays.
Aristotle – Ethics.
Herodotus – The Histories.
Hardcovers:
Lerner, Daniel – Single Malt & Scotch Whisky. Who wouldn't want a book about scotch?
Gowers, Sir Ernest – The Complete Plain Words. Very, very plain. But excellent!
Gillingham, B. – Modal Rhythm. You say you're hardcore into period music? If you haven't read this, I don't believe you.
The Penguin Canadian Dictionary. Want to speak Canuck? This is your book.
The New Century Dictionary (3 Vols).
Webster's Biographical Dictionary.
Jordan, Robert – The Dragon Reborn (autographed).
Silverberg, Robert – The Mountains of Majipoor.
de Lint, Charles – Dreams Underfoot.
Vonnegut, Kurt – Breakfast of Champions. This one messed me up as a kid.
Peart, Neil – Roadshow: Landscape with Drums. Quite decent. Don't judge a book by its lyrics, I guess.
Wood, E.T. – Current English Usage.
Complete Book of Home Repair and Improvements.
Pink, M. Alderton – A Dictionary of Correct English. Just imagine how correct his English must have been. His name is Pink. Mr Pink. Don't argue with him about the semicolon. He'll show you a semicolon.
Salway, Peter – The Oxford Illustrated History of Roman Britain. This one's bad-ass, yo. Don't judge an army by its little skirts.
Holmes, G. – The Oxford Illustrated History of Medieval Europe.
Cornwell, Bernard – Sharpe's Eagle.
Scalzi, John – 24 Frames Into The Future.
The Essential Hal Clement, Vols 1 & 3.
Carlin, George – Napalm & Silly Putty.
The Norton Anthology of English Literature.
Roberts, M.C.M. – El Espanol Vivo.
Throckmorton, Peter (ed)- The Sea Remembers: From Homer's Greece to the Rediscovery of the Titanic – Shipwrecks and Archaeology.
Li Zhisu, Dr. The Private Life of Chairman Mao. Was a time, you could be shot in China for reading this, so you should read it now. Sensational, but not for the faint of heart.
Chou, Eric – Mao Tse-Tung: The Man and the Myth.
Spence, Jonathan D. – The Search for Modern China.
White, Peter. Promised Verse: Poets in the Society of Augustan Rome. Brilliant, if you're not stuck in an airless seminar room being berated for mis-transcribing Horace.
The World's Worst Military Disasters – big subject, small book.
Muir, Frank – The Oxford Book of Humorous Prose.
A Guide for Grown-ups: Essential Wisdom from the Collected Works of Antoine de Saint-Exupéry. While I love the author, I loathed the person who gave this to me.
Silberschatz, Gavin & Gagne – Operating System Concepts: Sixth Edition. With pictures of dinosaurs on the cover! How prophetic.
McCormack, Thomas – The Fiction Editor, The Novel, And The Novelist.
Chaucer – The Nun's Priest's Tale; Troilus & Criseyde.
Tolkien, JRR – The Letters of JRR Tolkien. Surprisingly entertaining. A Tolkien Bestiary – some damage to the spine, but otherwise marvellously researched & illustrated. A gem.
The Film Book of JRR Tolkien's The Lord Of The Rings – that's from the Bakshi version! Super duper rare.
Pomeroy, Sarah – Goddesses, Whores, Wives and Slaves: Women in Classical Antiquity.
Giants, illustrated by Heller, Scrace & Wijngaard. Marvellous.
Patterson, Jane – Interpreting Handwriting.
The Medieval Translator 4.
Waldrop, M. Mitchell – Man-Made Minds: The Promise of Artificial Intelligence.
Andriole, S (ed) – Applications in Artificial Intelligence.
Michalski, Carbonell, Mitchell – Machine Learning.